Cost: $100
This 0.5 credit hour course is designed to promote an infusion of resources related to interpreting in healthcare. It will serve as an introduction to the benefits and challenges of interpreting in healthcare settings in an effort to prepare interpreters in making well-informed decisions about their readiness and qualifications for interpreting in these settings.
Please note that students must possess basic American Sign Language/English interpreting skills before enrolling in this course.
Course Objectives
Upon completion of this badge, students will be able to:
Demonstrate mastery of key vocabulary in ASL and English.
Effective use key vocabulary in the context of communication between the Deaf and hearing persons.
Be able to resolve communication breakdowns and to recognize their own personal limitations in sharing medical information when the terminology in unfamiliar.
Credit Hours
Success in this 0.5 credit hour course is based on the expectation that students will spend, for each unit of credit, a minimum of 7.5 hours over the length of the course in direct instruction as provided by the instructor and an additional 15 hours outside of class reading, reflecting, and evaluating the topics for a total of 22.5 hours.
Credit Criteria
Grading Scale: Badge/No Badge
Evaluation: 100% completion of badge criteria
---
Instructor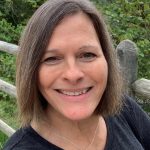 April Dunlap has been a Master level Sign Language Interpreter for 20+ years with experience ranging from community work, cruise interpreting and international conferences. She and her husband are the proud owners of CEUFlix.com which is an online affordable access to online ceus. April has been an evaluator for the previous MICS cert testing systems for BEI. She has also been on the planning committee for the Annual Interpreter Conference for several years. She loves to travel with Jeffrey and still calls Kansas City, MO home. She and Jeffrey are proud of their son, Parker, who is in the Global Business Management program as a Thunderbird at ASU in AZ!