Cost: $100
This badge course provides an introduction to the federal law of bankruptcy and secured transactions under Article 9 of the Uniform Commercial Code. It also reviews a survey of other areas of law that touch on the work of commercial credit management, including the antitrust laws of the United States, consumer protection, professional duties and obligations of those involved in credit management decision-making, how both public and private realms of international law impact transnational credit transactions and the impact of environmental law and regulation on the work of commercial credit stakeholders.
Course Objectives
In this course, students will:
Understand the scope of the bankruptcy process under federal law in the United States including procedures for various chapters of the US Bankruptcy Code under which filings can occur.
Appreciate the rules concerning security rights and security agreements under the UCC and how secured, collateralized agreements factor in to credit decisions.
Analyze the system of private international law that governs business and credit transactions including sources of international law thereto (e.g., treaties, custom).
Evaluate the statutory and regulatory framework of anti-trust law in the United States including the Sherman Antitrust Act as well as federal and state processes for investigating anti-competitive behavior and consumer protection.
Analyze the rules of professional ethics and liability for credit managers including the standard of care under tort law, the role of a fiduciary, and the law surrounding malpractice actions.
Appreciate the rules of environmental law stemming from administrative law processes as environmental laws and regulations impact business decisions and the commercial credit decision-making process.
Credit Hours
Successful completion of this badge awards 0.5 online hours of credit.  Workload for completion is based on the expectation that students will spend a minimum of 7.5 hours in instruction over the length of the badge and an additional 15 hours on preparation, readings, studying, writing, research and other assignments as determined by the badge instructor.
Activities will involve working online, participating in asynchronous activities, and other offline work.
Credit Criteria
Grading Scale: Badge/No Badge
Evaluation: For this badge course, a student must obtain at least an 85% score overall on performance on the four checkpoint quizzes. Schedule of module lessons and quizzes are at the end of this syllabus.
---
Instructor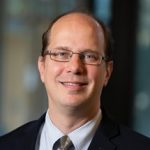 Greg Bordelon teaches full-time at a law school, but was formerly with Wichita State University. At WSU, he taught the general legal environment of business course (BLAW 431) as well as the sequence on commercial and business law (BLAW 635 and 636). An exciting course combining law and ethics for MBA students was BLAW 810. Greg has a passion for teaching and learning, and he feels that people are all life-long learners, and education builds analytical curiosity to not only make people better in and of themselves but also for the societal institutions to which individuals belong. Education and sharing knowledge is fundamental to good business and good government.