Cost: $200
This course focuses on the anatomical and physiological basis of lactation and breastfeeding, and the biological components of human milk that make it the best nutrition for infants. This course is appropriate for any person who wants to support breastfeeding families; as well as, individuals preparing for IBLCE certification.
Course Objectives
Upon successful completion of this course, students will be able to:
Understand the anatomy of the human female breast and the physiological mechanisms of milk production.
Recognize the anatomy of the oral structure of the human infant and the physiological mechanisms of suckling.
Interpret the biological components of human milk, and the biochemical messages that contribute to the wellbeing of the mother and infant.
Credit Hours
Success in this 1.0 credit hour course is based on the expectation that students will spend, for each unit of credit, a minimum of 15 hours over the length of the course in direct instruction as provided by the instructor and an additional 30 hours outside of class reading, reflecting, and evaluating the topics for a total of 45 hours.
Credit Criteria
Grading Scale: Badge/No Badge
Evaluation: 100% completion of badge criteria
Contact Hours for Professional Relicensure
Nursing: Nurses seeking Continuing Nursing Education (CNE) for a badge course, must submit an Individual Offering Approval (IOA) application to the Kansas State Board of Nursing (KSBN) for official approval PRIOR to renewal of your nursing license. The IOA can be found on www.ksbn.org.
---
Instructor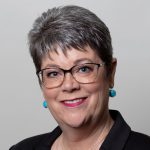 Jolynn (Jo) Dowling is an Associate Educator in the School of Nursing at WSU, and has held the Janice M. Riordan Distinguished Professorship in Maternal Child Health since 2018. She is an alumni of Wichita State; earning both her BSN and MSN through WSU School of Nursing. She has been a lactation consultant for almost 20 years and has been on faculty at WSU since 2005. Her curriculum focus is in population health nursing, evidence-based practice, and maternal/child health. She teaches in the RN-BSN and graduate programs in the School of Nursing. Prior to joining the faculty at Wichita State University; her clinical work included critical care for newborns and families, critical care newborn transport with LifeWATCH, and management of complex lactation issues. This expertise has led to an involvement with establishing community connections to reduce the impact of infant mortality. Ms. Dowling serves as past-chair of the Wichita Area Breastfeeding Coalition, serves on the board of the Kansas Infant Death and SIDS (KIDS) Network, and has served on the board of the Kansas Breastfeeding Coalition.