Cost: $100
This badge focuses on understanding the use of creative techniques to assist helpers in creative empowerment and anti-oppressive practices in their professional roles.
Course Objectives
Upon completion of this badge, students will be able to:
Identify at least one theoretical framework for creative social work intervention in professional helping.
Develop basic understanding of literature based strategies used to enhance capacities with individuals, families, groups, organizations, and communities in social work practice.
Understand at least two art- and music-based strategies to enhance capacities with individuals, families, groups, organizations, and communities.
Discuss how creativity in social work practice can be utilized to promote diversity, inclusion, and empowerment.
Credit Hours
Success in this 0.5 credit hour course is based on the expectation that students will spend, for each unit of credit, a minimum of 7.5 hours over the length of the course in direct instruction as provided by the instructor and an additional 15 hours outside of class reading, reflecting, and evaluating the topics for a total of 22.5 hours.
Credit Criteria
Grading Scale: Badge/No Badge
Evaluation: 100% completion of badge criteria
Contact Hours for Professional Relicensure
Social Workers: This program has been pre-approved by the Kansas Behavioral Sciences Regulatory Board for continuing education for social workers. These course offerings are approved for 7.5 contact hours applicable for relicensure. (BSRB approval #05-001).
---
Instructor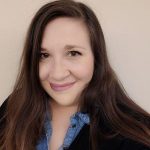 Shaunna Millar has been a social worker for over eighteen years, receiving both her BSW and MSW degrees from Wichita State University. Before returning to Wichita State University in 2010, she was an adjunct instructor for Butler Community College in Andover, Kansas, for ten years, and had served as a previous visiting instructor with WSU in 2003-2004. She has taught across the social work curriculum, and has particular interests in creativity in multilevel practice, social welfare policy, community action, and children's issues. Shaunna has worked primarily in the areas of child welfare, mental health, forensic social work, and juvenile justice. She started her career working with the YWCA Women's Crisis Center as a children's advocate, and continued working with children facing issues of violence and sexual abuse with the Exploited & Missing Child Unit at SRS and with the Wichita Children's Home. These experiences led her into social work experiences addressing the mental health needs of youth in the Juvenile Justice system with Sedgwick County Department of Corrections, and providing outpatient adult and child individual, family and group therapy with Youthville Family Consultation Service.
Shaunna has served as an Online Faculty Fellow from 2015-16, received a Tilford Fellowship in 2014-2015, served as a University Retention Fellow for 2016-2018, and as a Recruitment Faculty Fellow for 2019-2020. Ms. Millar co-Chairs the School's annual POWER Conference, is a member of the Kansas Council for Social Work Education, and a member of the National Association of Social Workers. Shaunna was named
Wichita
 State "Phenomenal Woman of The Year" in 2018 and Recruitment Faculty Fellow for the 2020/21 school year.