Cost: $100
This course will cover the core principles of trauma informed care (individual, family, and community) and will review the identification of trauma and symptoms of adverse childhood experiences. This course will also address secondary trauma exposure and the necessity of clinician self-care. This review will reflect the core areas of cultural competency, empowerment, and social justice and will provide opportunities for applying theories and critical thinking. Ethics, knowledge of self, and development of practice skills for human service fields (medical, social work, substance abuse, education, and criminal justice) will be emphasized.
Course Objectives
Be aware of theoretical perspectives of trauma informed care and interventions in response to trauma experiences.
Be able to apply basic assessment skills in the presence of possible trauma reactions.
Demonstrate initial understanding of the range of responses to trauma.
Be familiar with resources available to clinicians and clients when trauma has occurred.
Credit Hours
Success in this 0.5 credit hour course is based on the expectation that students will spend, for each unit of credit, a minimum of 7.5 hours over the length of the course in direct instruction as provided by the instructor and an additional 15 hours outside of class reading, reflecting, and evaluating the topics for a total of 22.5 hours.
Credit Criteria
Grading Scale: Badge/No Badge
Evaluation: 100% completion of badge criteria
Contact Hours for Professional Relicensure
Social Workers: This program has been pre-approved by the Kansas Behavioral Sciences Regulatory Board for continuing education for social workers. These course offerings are approved for 7.5 contact hours applicable for relicensure. (BSRB approval #05-001).
---
Instructor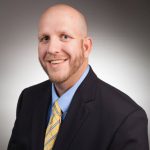 Nicholas Milligan received his Bachelors in Psychology from Friends University and his advanced degree as a Master in Social Work from Wichita State University. For more than 15 years, he has worked with people to help them better their lives. His experience includes diverse populations in various community settings including corrections, private practice, inpatient substance use treatment, inpatient psychiatric, and the Robert J. Dole VA in the outpatient substance use disorder clinic. Nicholas has training in Motivational Interviewing, Trauma Informed Care, Cognitive Behavioral Therapy, and SMART Recovery. He has worked with a variety of issues, including addiction and life transitions. He is a member of Motivational Interviewing Network of Trainers, and Phi Alpha Fraternity of Social Workers. In addition to being a Licensed Specialist Clinical Social Worker (LSCSW), he is also a Licensed Clinical Addiction Counselor (LCAC). With experience in individual and group therapy, from a strength-based approach, Nicholas has helped guide clients to overcome ambivalence and make lasting changes in their life.