Cost: $100
In this badge, students will learn about globalization, its causes, and its impact on different stakeholders. Badge content will include an analysis of the history of globalization, and its effects, both positive and negative, on different stakeholders in society.
Course Objectives
Upon completion of the badge students will be able to:
Describe globalization and its causes
Explain how recent social and technological changes have affected the process of globalization
Analyze how globalization has affected different stakeholders (local businesses, multinationals, governments, customers, suppliers, local communities etc.) in different economies
Reflect on how globalization has affected you personally
Credit Hours
Success in this 0.5 credit hour course is based on the expectation that students will spend, for each unit of credit, a minimum of 7.5 hours over the length of the course in direct instruction as provided by the instructor and an additional 15 hours outside of class reading, reflecting, and evaluating the topics for a total of 22.5 hours.
Credit Criteria
Grading Scale: Badge/No Badge
Evaluation: 100% completion of badge criteria
---
Instructor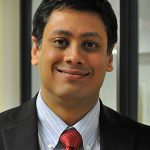 Dr. Chand completed his MBA and Ph.D. in International Business from Simon Fraser University in Vancouver, Canada. He teaches or has taught courses in International Business, International Management, Business Ethics, or Organizational Behavior. He has consulted with multinationals in the aerospace industry in regards to their international operations.
Courses: International Business, International Management, Business Ethics and Organizational Behavior.
Research: Published in Journal of Business Ethics, International Business Review, Asia Pacific Business Review, Advances in International Management, Thunderbird International Business Review, Journal of African Business, Journal of Enterprising Communities,  and The Business Review, Cambridge, and the Journal of Trust Research.