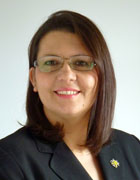 Bio: Gery earned her Ph.D. in Human Resource Management for the University of Central Florida in 2006.

Research: Workplace deviance, employee well-being, and HR practices for small business.

Sample Publications: She has published research in Nonprofit Management and Leadership, Journal of Social Psychology, Entrepreneurship Theory and Practice, Management Research, Journal of Developmental Entrepreneurship, International Journal of Productivity and Performance Management, International Journal of Business Research and Management, Journal of Applied Management and Entrepreneurship, and International Journal of Strategic Management.

Badges
---